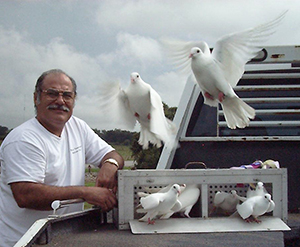 Birds of Paradise snow whites are homed in the beautiful country site in Orange Grove, Texas on 10-acres of land.

Leo is a professional bird trainer and handler. He has been a member of the American Racing Pigeon Union for over five decades and offers over six decades of experience in managing a well-balanced and healthy training program that helps condition our birds to reach their home safe and sound.

Our birds are of high quality, and we take lots of pride in them when we rent our snow-white doves for your special event.
❤❤❤❤❤❤❤❤❤❤❤❤❤❤❤❤
Frequently Asked Questions:
The following are answers to common questions asked. These answers will help you understand our birds' ability and homing instinct in returning home after a snow-white dove release.
❤

How does a wedding release work?

Dove releases can be coordinated with your photographer that so you may have a memorable keepsake.

After a wedding ceremony is over the newlyweds express their love to the family, friends and guest by releasing one pair of snow white doves out of a heart-shaped wicker basket. What a way to express joy when newlyweds, parents and the wedding party also release snow white doves out of a large box or large wicker basket.
❤

What kind of birds are they?

These beautiful snow-white birds are known as the turtledove, the rock dove, the ring dove, and the stock dove; we professional bird trainers well know them as the homing pigeon. These are the athletes of the bird world, and they are strong fast fliers. The homing pigeon is well noted for its devotion and the affection for its mate.
❤

What happens once the birds are released?

Once released, our birds typically circle the area several times allowing their viewer to admire their beauty. Then they begin their flight back home to their spacious loft where they love to lounge around after an event. The birds are in no way harmed because they enjoy flying. In fact, although the homing pigeon has a soft, gentle appearance and disposition, they are known to be strong and swift fliers, able to reach speeds of over 50 mph.
❤

Does the weather and "time of the day" matter in a bird release?

Weather conditions and time plays an important factor as you plan for your snow-white dove release. We cherish and take pride in our birds; and we would never expose our birds to any danger due to weather conditions or to any injury they may have at night. We ask that you review our policies to help you plan a bird release.